The last-minute decision by Karen Lewis and a handful of Chicago Teachers Union staff members to "endorse" the candidacy of Jesus "Chuy" Garcia during the three days prior to the CTU LEAD dinner on Halloween night has caused the biggest split in five years inside both the union and the CORE (Caucus Of Rank-and-file Educators) which won union power in June 2010. ... Lee Sustar, Socialist Worker
Now that a faction of the leadership of the union has surrendered its last pretexts at transparency and democracy.... George Schmidt on the Chicago Teachers Union
For the union to back Garcia, however, the CTU constitution requires the political action committee/legislative committee [1] (PAC/Leg) to first propose any endorsements before they are passed along to the union's executive board, which must approve the recommendation before it goes to the next House of Delegates meeting....

The PAC/LEG committee did hold several meetings, but was unable to issue a decision on endorsement until after the October 31 union dinner. Now, the executive board has recommended an endorsement to be taken up at the House of Delegates. But Garcia's appearance at the LEAD event pre-empted the process.....Lee Sustar, Socialist Worker
From the earliest days of MORE there have been concerns over the role the International Socialist - ISO - would play within MORE - to such an extent that there was much debate within ICE 3 years ago as to whether the get involved in the first place. And recent events in MORE have brought some of these issues to the surface, ie - to what extent can ISO control the agenda of MORE? But more (lots more) on this angle in the future.
I present the above and below in the context of what is going in the Chicago TU, where ISO also has some key people involved, most notably, VP Jesse Sharkey, who is now acting president while Karen Lewis recovers from her illness and Nate Goldbaum who is the chairperson of CORE -- Sharkey (see photo below) and the rest of the CTU leadership seem to have taken the CTU down a road of alliance with the Democratic Party hack division as the lesser of 2 evils - by endorsing some awful Democratic politicians - who lost anyway - see Substance -
Paul Vallas cost Pat Quinn the election.
While it is not clear on the role Sharkey has played in these decisions (one would assume that as one of the 4 officers he played a major role), they certainly seem counter to positions ISO has taken on electoral politics over the years, especially towards the Democratic Party. But this year, ISO and MORE member Brian Jones was tapped to run for Lt. Governor by the Green Party, pushing a very strong education program - and they got a nice 5% of the vote -- a start towards building a 3rd choice for progressives.
So I was wondering how ISO would/could square the Chicago and NY stories - and when I put that question out on the MORE discussion listserve there was no response.
Now we have an article (below) from Lee Sustar, one of the respected voices in ISO, who I've sat with in the press section of the last 3 AFT conventions and always find his take knowledgeable and illuminating. There were rumors he was writing a book on the CORE/Chicago TU that was going to fall into the general ISO ideological line of "all praise to the CTU and CORE". I did hope Lee would not fall into the ideological line we hear from ISO here in NYC that the Chicago story was mostly social justice and left leadership while downplaying the angle that CORE struck a note with their defense of teachers. The book seems to be on hold and some of my sources are pointing to a rethinking of the CTU situation on the part of Lee and some ISO people - due to what is being reported by both George Schmidt and by Lee below.
republished from Substance and Socialist Worker: http://socialistworker.org/2014/11/05/controversy-flares-in-the-ctu
[George Schmidt - Editor's Note: The following article originally appeared at Socialist Worker and is reprinted here at substancenews.net with permission of the author. For those who wish to consult the original article and additional analysis by the same writer, go to: http://socialistworker.org/2014/11/05/controversy-flares-in-the-ctu]
Political controversy flares up in the CTU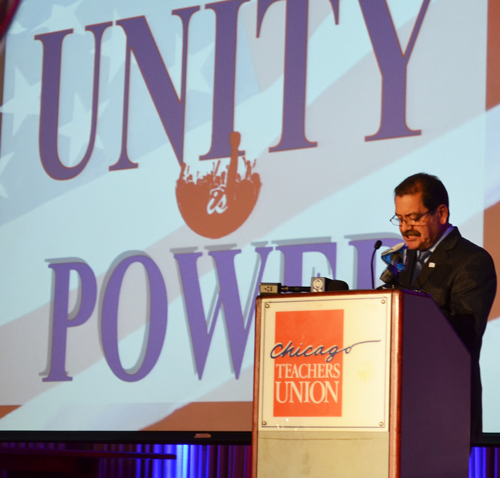 The last-minute decision by Karen Lewis and a handful of Chicago Teachers Union staff members to "endorse" the candidacy of Jesus "Chuy" Garcia during the three days prior to the CTU LEAD dinner on Halloween night has caused the biggest split in five years inside both the union and the CORE (Caucus Of Rank-and-file Educators) which won union power in June 2010. The "Chuy" push came so late that a special extra program had to be published giving biographies of the night's speakers. Despite the probably ability of the Garcia supporters to win a slim majority in the union's House of Delegates to their agenda, the factionalism and manipulation that has been going on inside CTU since October 27 is explosive and backfiring within the union's rank and file. Substance photo by Sharon Schmidt.
Lee Sustar looks at the issues surrounding a debate in the Chicago Teachers Union about endorsing a candidate for the upcoming mayor's race. November 5, 2014
DELEGATES OF the Chicago Teachers Union (CTU) are expected to decide November 5 on whether to endorse an electoral challenge to Mayor Rahm Emanuel in the February mayoral election.
The push to support Jesus "Chuy" Garcia, a Cook County Commissioner and longtime Chicago politician, comes amid controversy over how it came about--in a videotaped statement from CTU President Karen Lewis at the union's annual political dinner, known as LEAD, on October 31. Lewis has taken a leave of absence because of a serious illness, and Vice President Jesse Sharkey has assumed the president's duties according to the CTU's constitution.
Lewis, after undergoing major surgery, has remained politically active and pressed for Garcia's endorsement. For the union to back Garcia, however, the CTU constitution requires the political action committee/legislative committee [1] (PAC/Leg) to first propose any endorsements before they are passed along to the union's executive board, which must approve the recommendation before it goes to the next House of Delegates meeting.
The PAC/LEG committee did hold several meetings, but was unable to issue a decision on endorsement until after the October 31 union dinner. Now, the executive board has recommended an endorsement to be taken up at the House of Delegates. But Garcia's appearance at the LEAD event pre-empted the process.
LEWIS' HIGH-profile individual support for Garcia captured headlines because she was preparing to run for mayor herself before she fell ill--and opinion polls showed she had a shot at beating Emanuel, despite the mayor's $8 million-plus campaign fund. She clearly hopes to transfer her support to Garcia. But as the independent teacher publication Substance News reported [2], her personal endorsement of Garcia raised hackles among CTU members.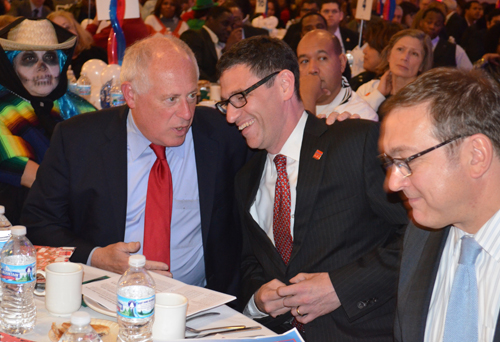 While under observation in preparation for the Day Of The Dead, Illinois governor Pat Quinn (second from left above) shared something droll with Chicago Teachers Union President Jesse Sharkey (second from right) while Illinois Federation of Teachers President Dan Montgomery (right) smiled on. This picture was from the LEAD dinner, four days before Quinn lost to Bruce Rauner in the November 4 election. Substance photo by Sharon Schmidt.
For one thing, as Substance pointed out, the public embrace of Garcia at the CTU's highest-profile political event came before the union had considered other challengers to Emanuel--mostly prominently, Alderman Bob Fioretti, who supported the CTU's 2012 strike and its campaign to save public schools from closure.
Second, the rush to back Garcia sidelined those who want to raise broader questions about the union's support for Democratic politicians following the CTU's endorsement of Illinois Gov. Pat Quinn last month [3].
Quinn, who lost his re-election race yesterday, is a one-time reformer turned union-basher [4]. He's spent the last few years overseeing legislation to "fix" public workers' pensions by slashing benefits. Adding insult to injury, Quinn chose as his running mate this time around Paul Vallas, who in the 1990s ushered in the era of school "reform" as CEO of the Chicago Public Schools.
But because Quinn's opponent in the race was the billionaire Republican investor Bruce Rauner, the union--by a majority vote in the House of Delegates on a proposal from the executive board--supported Quinn in a classic "lesser evil" calculation. Indeed, Quinn was the advertised keynote speaker at the CTU dinner until he was bumped by Garcia.
The other point of controversy is simply the importance that the CTU has placed on union democracy as an alternative to backroom deals--from its officers, who won election in 2010 as part of the Caucus of Rank-and-File Educators (CORE) reform slate, through to the rank and file.
In 2011, when Lewis negotiated an agreement to support Senate Bill 7, a law making it difficult for the union to strike, CORE members on the executive board and in the House of Delegates led a successful effort to withdraw the union's support for the agreement. And the CTU's successful 2012 strike didn't end until after delegates had delayed ratifying the agreement until after members held picket-line meetings to discuss the deal and instruct the delegates whether or not to vote for ratification.
THE DEBATE about Garcia highlights larger questions about how the CTU will approach the February 24 election.
A Karen Lewis run for mayor had the potential to mobilize an independent, labor-based campaign against the local political establishment--which is entirely Democratic--and their big business backers. Lewis' popularity in working-class Chicago comes not from connections to wealthy patrons, but her role in leading a strike that challenged the business and political powerbrokers.
Some of Lewis' statements and actions as her campaign began to take shape raised concerns about just how independent it would be [5]. Those are even more pressing with Chuy Garcia, a veteran of the Chicago Democratic Party.
The son of Mexican immigrants, Garcia has roots in Chicago's 1970s activist left. He was a close ally of Mexican-American organizer Rudy Lozano, who was murdered in what activists believe was a political assassination. He filled Lozano's shoes by winning election as an alderman in 1986 as an ally of Harold Washington, the city's first African American mayor. Garcia retained ties to labor and the left, sometimes appearing at left-wing political events.
As a founder of the Little Village Development Corp. (now Enlaces), Garcia helped knit together a rising Mexican-American middle class in the 1980s and 1990s by helping businesses secure loans to create the second-most important business district in the city after downtown.
After serving two terms as a state senator, Garcia was targeted by Mayor Richard M. Daley, whose Hispanic Democratic Organization ran pro-Daley hack against him. After losing the election, Garcia continued to develop his political networks, chairing the Woods Fund, a foundation that makes grants to community groups.
Gradually, Garcia rose in Democratic circles and shifted into the political mainstream--at odds with Daley, who saw him as a threat, but at home with the liberal wing of the party. When the Cook County Board became mired in corruption scandals, and with Daley set to retire, the door was open for Garcia to run for the Cook County Board to represent a district that includes parts of Chicago, as well as heavily Latino suburban towns.
"Garcia isn't a Democratic machine guy, but he is definitely a politician," said Jorge Mujica, a socialist candidate for alderman in the February elections [6]. And being a Democratic politician in the aftermath of the Great Recession means backing austerity. As a Cook County commissioner, Garcia has been the floor leader for Cook County Board President Toni Preckwinkle, herself a former alderman and liberal with roots in the city's African American community.
Since her election in 2010, Preckwinkle has been hammering unions with demands for concessions [7]. She also pushed for legislation to gut county workers' pensions--the measure failed [8] when Republicans in the state legislature decided it didn't cut deeply enough. The Chicago Civic Federation, a business-backed, union-hating, austerity-pushing group, has hailed Preckwinkle's austerity budgets [9].
As a close Preckwinkle ally, Garcia helped to implement this agenda. In a speech to college students made shortly after he announced his candidacy, he made this into a badge of honor [10]: "We inherited a deficit of $479 million, which is not chump change. I believe that we demonstrate through our actions that we can live within our means."
THERE'S LITTLE reason to expect that Garcia would take a different approach as mayor of Chicago, which faces its own looming pension shortfall [11] after decades of underfunding, as a result of a tax structure that soaks workers and the poor while favoring the big financial and real estate interests.
And while Garcia criticized Emanuel for closing 49 public schools in spring 2013, he hasn't committed to reopening them--nor to freezing and rolling back the proliferation of charter schools that have drained public school funding and downsized the teaching workforce.
While Garcia indicated at the CTU dinner that he supports an elected school board--a deal-breaker issue for Chicago teachers and education justice activists who continue to fight Emanuel on the question--the candidate hasn't made that a focal point for his nascent campaign.
Many CTU members, determined to get rid of their arch-enemy Rahm Emanuel, may conclude that Garcia is a candidate who should be supported, despite the drawbacks. But by promoting Garcia before the union's deliberative bodies had a chance to debate his history and make a formal decision, the union risks endorsing another supposedly pro-labor Democrat who goes on to shaft teachers, just as Pat Quinn did.
A handful of independent campaigns for alderman--including some CTU members--are attempting to put forward an alternative to the Democratic establishment. The CTU, like labor unions everywhere, will be far better served by endorsing genuinely independent campaigns that fight for the interests of working people.
- - - - - - - - - - - - - - - - -
Published by the International Socialist Organization.
Material on this the Socialist Worker Web site is licensed by SocialistWorker.org, under a Creative Commons (by-nc-nd 3.0) [12] license, except for articles that are republished with permission. Readers are welcome to share and use material belonging to this site for non-commercial purposes, as long as they are attributed to the author and SocialistWorker.org.
NOTES:
[1] http://www.ctunet.com/grievances/CONSTITUTION-and-BYLAWS-11-12-10.pdf?1294855346
[2] http://www.substancenews.net/articles.php?page=5296§ion=Article
[3] http://socialistworker.org/2014/10/08/from-enemy-to-lesser-evil
[4] http://www.huffingtonpost.com/2013/12/05/illinois-pension-law-sign_n_4393614.html
[5] http://socialistworker.org/2014/09/22/which-way-will-lewis-run
[6] http://socialistworker.org//www.votemujica.org/
[7] http://www.afscme31.org/news/cook-county-employees-send-messag2e-to-preckwinkle
[8] http://politics.suntimes.com/article/springfield/preckwinkle-throws-towel-county-pension-reform-plan/fri-05302014-1029pm
[9] http://www.huffingtonpost.com/2012/10/26/cook-county-budget-proposal_n_2024950.html
[10] http://www.chicagotalks.org/2014/10/jesus-chuy-garcia-at-university-of-illinois-chicago/
[11] http://www.reuters.com/article/2014/10/15/us-usa-chicago-budget-idUSKCN0I42NI20141015
[12] http://creativecommons.org/licenses/by-nc-nd/3.0