I've been real impressed with the work the team leading UTLA have done in getting ready for the strike, preparations which began when they won power in 2014. I think they have learned some of the lessons from the Chicago strike - positive and negative.
I'm working on some comparisons between the Los Angeles, Chicago and NYC unions and how progressive groups managed to take power in two cities but have gone nowhere here in NYC.
Unity Caucus is the difference.
In both Chicago and LA, there have been changes in power a few times over the past 20 years - or shared power. In NYC Unity has been in control for 60 years. That is due to the fundamental difference in union structure. Here it is impossible to make much of a dent in the Unity machine without having an efficient and canny opposition. So far we haven't had that. If the people from Chicago and LA were here, they would be marginalized or absorbed by Unity.
But there are some lessons to learn from those cities. I met many of the activists in both cities in 2009 and even invited myself to a breakfast at Alex Caputo-Pearl's house one Sunday morning along with a car load of CORE people headed by Jackson Potter who was the key to organizing CORE.
I dredged up some articles from 2014, just before the Union Power slate won the election in LA. Some of the history is worth checking out.
What seems to be interesting is that Union Power is not a caucus like CORE in Chicago but a coalition of activists, which is what needed to happen here in NYC. In fact I proposed a United Front non-caucus slate for this election where anyone who wanted to run against Unity could do so, a way to extend outreach into numerous schools. It didn't happen.
PEAC [LA] and CORE [Chicago] have, in fact, worked together since a 2008 [should be 9] national gathering of reform teachers' caucuses. And as they prepared for their new roles in 2010, the newly elected CTU leaders visited L.A. to meet with PEAC activists. Back then a PEAC-backed reform slate was represented in UTLA leadership, though it did not have a majority. Caputo-Pearl and other Union Power leaders attended a 2013 teachers' social justice conference hosted by CORE. .... Labor Notes, Feb. 2014
I was at both the 2009 [See my reports -
LA Deamin'
,
LA Confidential
)  and 2013 conferences - Alex Caputo-Pearl, Sally Lee of Teachers Unite and Jackson Potter of CORE met at a 2008 conference and then organized the 2009 conference in LA - I flew out with Sally who was 8 months pregnant.
It was quite an intense few days with so many LA activists who were so impressive. I think there were 5 cities present in 2009. There was no such thing as MORE then but there was the early days of GEM and ICE was still active and getting ready to run in the 2010 UFT elections.
CORE talked about the possibility of running in the 2010 election but said they would first check their influence by running a candidate for the pension board, which they ended up winning. They then ran in the May 2010 election with 4 other caucuses. The Unity-like UPC had split into 2 and since Chicago has a runoff, and CORE's intent was to finish 2nd and then win the support of the other caucuses that finished behind them. They got less than a third of the vote but that still put them in 2nd place and everyone else climbed on board for round 2 and they won over 60%.
That was about 10 days before the AFT convention in Seattle - see the July 2010 reports in Ed Notes for details of that wild ride -- we spent a lot of time with the new leadership in Chicago.
Here are a few segments from the articles in Labor Notes and Socialist Worker.
The UP slate is headed by Caputo-Pearl, but draws together a number of veteran UTLA activists. The team includes several current members of UTLA's board of directors, rank-and-file members running for union office for the first time, and even three current officers who've broken with Fletcher.
Solomon and Caputo-Pearl were among the founders of PEAC, which now backs Union Power. That group formed in the 1990s, after No Child Left Behind increased the emphasis on tests and on punishing "failing" schools. Members worked with parents to fight against closings and for better schools... Labor Notes

While he was teaching at South Los Angeles' Crenshaw High, Caputo-Pearl fought the district's "reconstitution" efforts there. A partnership of teachers, parents, and students sought to improve the school from within.
Caputo-Pearl has a two decade-long history of union and community organizing as a teacher in South Los Angeles schools, working with groups like Labor/Community Strategy Center, the Coalition for Educational Justice and Progressive Educators for Action (PEAC), a militant union caucus. Caputo-Pearl also serves as his school's UTLA chapter chair--the elected union representative for the school--and as a member of the union's House of Representatives and Board of Directors, UTLA's term for its executive board.
the Union Power slate is using its campaign to build a coalition that unites elected leaders of UTLA who are frustrated with Fletcher's stonewalling with rank-and-file members who are tired of their union seeming inactive and irrelevant to their lives. If they win, UP and Caputo-Pearl pledge to continue that organizing effort with the resources of UTLA. They aim to create a fighting union in alliance with parents, community organizations and the wider labor movement.... Socialist Worker, https://socialistworker.org/2014/02/25/new-direction-for-la-teachers
http://www.labornotes.org/2014/01/la-teachers-run-bigger-vision
L.A. Teachers Run on a Bigger Vision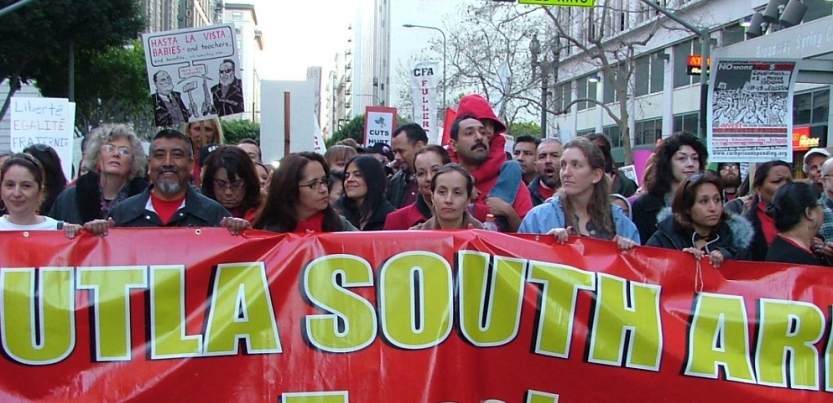 For Los Angeles teacher Alex Caputo-Pearl, if there was ever an example of how his union needed to change direction, it was November's "Rally for a Raise."