A CORE defeat will have major labor shock waves throughout the national teacher movement and the labor movement in general. A darling of the left losing an election would be MAJOR. I don't expect that to happen, but a run-off is possible of they don't get 50% running against two opposing caucuses, one from the left and one from the right.
Friday, May 20, 2022
With our own UFT elections over, it is tome to turn to another major union election. Today, Chicago teachers vote for union leadership. Based on the past, I assume voting will be in the schools and will have large turnout - especially when compared to the UFT. Retirees don't vote in Chicago.
Coverage here: https://www.youtube.com/watch?fbclid=IwAR1SEgoa6FL97e-e1WcuRKrzain6AcSAIdE9-sLQXHAiyRATy9AXUxfNXSU&v=GlyBQS4L2QA&feature=youtu.be

Union elections turn interesting when the ruling caucus undergoes a split. CORE, which has run the CTU since its election in 2010, has suffered two defections.
Members First split for the last election in 2019 and I believe got about a third of the vote -- this was viewed as a split from the right end of CORE: Chicago Teachers Union CORE Caucus challenged by Members First - Election May 17 - Substance
The most recent split comes from the left: Real Caucus has a number of prominent former CORE members. https://www.realcaucus.com/. I found many people I knew in CORE running with REAL.

CORE has been the leading light for left progressive unionism around the nation and inspired the founding of caucuses to challenge incumbent center/right teacher union leadership, like the Unity Caucus here in NYC.
In fact it was the 2010 CORE victory that was instrumental for us here in NYC to transform the non-caucus Grassroots Education Movement (GEM) to become a founding organization of MORE (which also underwent a split in 2018 but has come back strong) whose very name emerged out of CORE.

The original CORE victory was made possible by a split in the then ruling Unity like caucus in Chicago and CORE only got 32% of the vote in the first round with 5 caucuses running. The ruling caucus got 34% but in round two CORE consolidated the support of the other caucuses and won overwhelmingly - classroom teachers going into the boardroom.

My old pal, the late George Schmidt, with his Substance newspaper played a big role in that victory. Yet within a few years, people in CORE tried to purge him over his criticisms of the leadership. Did they become a version of Unity Caucus? That attempt failed but some damage was done.
The architect of the CORE caucus and victory was Jackson Potter, a man I met a number of times and liked very much. He left his job at CTU to go back into the classroom, but has considerable political influence in the CTU.
[NOTE - Potter was elected VP - so I guess back out of the classroom.]

The current president, Jesse Sharkey, is also leaving to go back to the classroom, leaving the union in the hands of Stacey Gates, who I believe was brought in by the late, great Karen Lewis. Her death has broken a unifying force in the union. If I remember correctly, George Schnidt was not a fan and at the 2010 AFT convention, a few weeks after CORE took power, I went to a CORE party and Karen introduced Gates as a major assistant. George made a comment along the lines of - not a real teacher.
I expect CORE - without really having inside info - but based on instinct - to win. But will they get over 50% to avoid a runoff? If REAL gets into a runoff with them, things might get dicey.
You can find coverage of the CTU - very anti leadership - at George's still running site: http://www.substancenews.net/
And here are some old articles by Mike Antonucci at the anti-union web site this past February.

https://www.the74million.org/article/analysis-the-chicago-teachers-union-election-isnt-until-may-but-already-its-hip-deep-in-drama/

Analysis: The Chicago Teachers Union Election Isn't Until May. But Already, It's Hip-Deep in Drama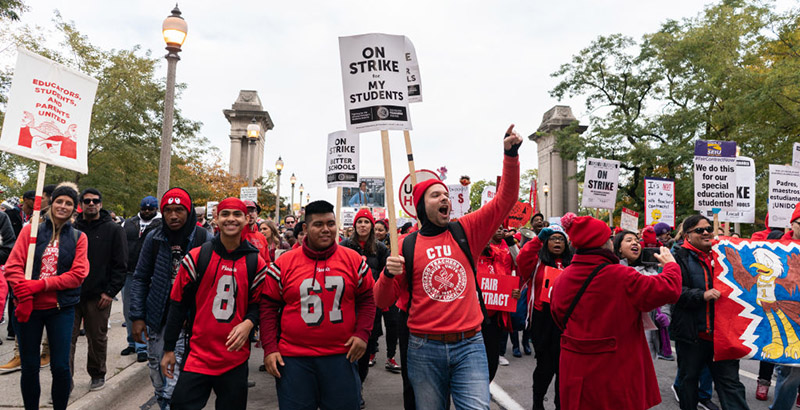 You rarely find news about union elections in the mainstream press. This is understandable, since few elections are contested or in any doubt. Public interest is also low, because it is usually difficult to make the case that a change in officers will lead to a change in the union's relations with the school district, lawmakers and the citizenry.
Chicago, however, is different.
For decades now, the Chicago Teachers Union has found it easy to make headlines. Its officers are political players on par with the city's mayor and are often rumored to be mayoral hopefuls. Unlike most teachers unions, CTU has a robust history of internal opposition caucuses that have successfully challenged incumbents for leadership positions.
The latest attempt is by Members First Chicago and its presidential candidate, Mary Esposito-Usterbowski. Jesse Sharkey, the incumbent president, is not running for re-election. Vice President Stacy Davis Gates is seeking the top post.
Members First thinks the strikes of 2019 and 2022 have harmed the union more than they have helped and seem to want a more productive relationship with the mayor and the district. The incumbent Caucus of Rank and File Educators (CORE) counters by pointing to its record of pay raises, class size limits and COVID safety protections.
The all-member election, set for May 20, is already hip-deep in drama. The latest chapter concerns a social media campaign supporting Members First. It is run by Lisa Schneider Fabes, a school board member in Wilmette, a town 14 miles north of Chicago. She oversaw Mayor Lori Lightfoot's transition team in 2019.
Everyone involved denies any current connection among Schneider Fabes, the mayor and/or Members First. CORE sees it differently. A CTU member discovered the role of Schneider Fabes and the union tipped off the Chicago Sun-Times, which ran a lengthy story on it. CORE called the outside campaign an "obvious and craven attack on our internal democracy."
The perception that forces allied with the mayor are supporting Members First make it difficult for the caucus to claim it is for, well, members first. Unfortunately for CORE, it has a few problems of its own.
For one, the union reported to its house of delegates that it was running a $3.5 million budget deficit. And Substance News, which has been covering internal conditions at CTU for 30 years, reported this week that CORE has fractured.
A new caucus of former CORE members was just formed and evidently will be running candidates in May. Called the REAL Caucus, its platform-in-progress states that "the current leadership has lost touch with the difficulties that educators face in our schools."
Katie Osgood, one of the founding members of REAL, posted on Twitter that "the reason many of us have broken from CORE is we see how business unionism & union bureaucracy have crept into CORE's leadership style. We are trying to propose an alternative that gets us back on the path of REAL rank & file unionism."
REAL also noted, "We are not here to play spoiler in this election. We are here to win! CTU rules state that if nobody gets 50% of the vote, there is a runoff so the winner has to get more than half the union's support regardless."
This is a crucial point, since CORE owes its initial accession to power to the runoff rule. In 2010, four opposition caucuses challenged incumbent President Marilyn Stewart and her United Progressive Caucus. Stewart eked out a win in the first round with 32.3 percent of the vote, but Karen Lewis and CORE were able to unite the opposition in the runoff, which Lewis won easily.
It's impossible to gauge the overall strength of the opposition in this election, never mind the relative strength of the opposition caucuses to each other, so who can tell if this will lead to a close race?
Regardless of what outsiders think of the Chicago Teachers Union, members should be heartened that they at least get to choose among differing visions for its direction, and have a realistic opportunity to discard one in favor of another. Too many teachers union members never get that chance.
And another one from his site from January:

https://www.eiaonline.com/intercepts/2022/01/21/why-the-chicago-strike-collapsed/

Why the Chicago Strike Collapsed
Hat tip to Alexander Russo for pointing us to this interview with Chicago teacher Hala Karim in Left Voice.
Read the whole thing, but here are a few points of interest:
* "I can't name one teacher who disagreed with the vote when it was passed!"
* "I know of at least a couple schools where many staff members had returned by the second day."
* "So, people want to know, what the hell happened? Well, for one, way too many people were walking through those school doors. As I was looking for parking during the teachout, I noticed that our school parking lot was at least half full. Our union members were going in. Some people stopped responding to our chat after the first day. They needed their paycheck, or they didn't want to ruffle feathers, whatever their reason, they turned their back on us. This was happening everywhere. Since this wasn't an official strike, people did not see the problem with going in. The problem is it completely undermined our action! Our leverage decreased with the growing amount of people who went in."
* "I consider this agreement to be a huge embarrassment for the union. I can't name a single colleague or friend who voted for it. I believe it is going to be a big struggle to bring our members in for our next action, knowing how played we all felt."
I assume the union resisted calling their work stoppage a "strike" for legal reasons, but it appears to have backfired. And it's hard to call something a lockout if a bunch of your members are showing up at school and teaching for pay.
Chicago is an outlier in many ways, but this month's events proved once again that a union can't run a major job action on the fly. You have to prep the membership, and a late night online vote the night before won't cut it.