The press focuses on the salary issue. While always crucial it is not the main issue. There is already a critique from the world socialist web site attacking Alex Caputo-Pearl for selling out because of the strike postponement. I must publish that as a follow up and parse what they are saying.
There seems to be some new money on the table and the UTLA to keep public support must address the issue and not automatically reject. With the entire teacher nation supporting wearing red yesterday, the change to Monday cost some momentum. Here is today's report from LA.
https://www.nbclosangeles.com/news/local/UTLA-LAUSD-to-Hold-More-Negotiations-Today-504222571.html?fbclid=IwAR0Ym4ZqKPmQ0yen8klBsTnRlrbnQ8G4md_ryurjqmX_tNK-d_WLDVPqD6g
Los Angeles Teachers Reject Latest LAUSD Offer
Published Jan 11, 2019 at 10:57 AM | Updated 20 minutes ago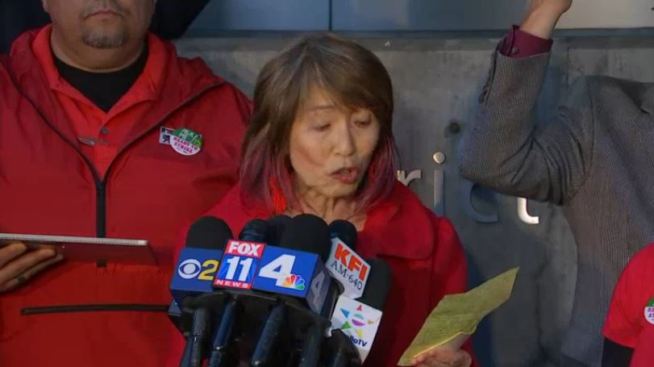 The union representing Los Angeles teachers rejected the LA Unified School District's latest offer as a looming strike is expected on Monday.
School district officials are hoping to stave off its first teachers strike in 30 years as they presented a new contract proposal Friday to the teachers union that included additional funding to reduce class sizes and provide more support for teachers.
If no 11th-hour agreement is reached, United Teachers Los Angeles plans to go on strike beginning Monday. Reducing class sizes has been one of its demands, although disagreements about a pay raise, charter schools, the staffing level of nurses, counselors and librarians, and other issues have also been areas of conflict in more than two years of contract negotiations.
The budget Newsom released Thursday would spend a record $80.7 billion on kindergarten through 12th grade schools and community colleges, up from the roughly $78 billion included in the previous spending plan.
"Yesterday, we spoke with state leaders in Sacramento about our shared commitment to public education, and the budget announced today by the governor is a strong statement of those values,'' Beutner said Thursday. "All of the legislative leaders we met with yesterday expressed their commitment to public education.
"We expect the final budget adopted in June will reflect these values and provide additional funding for Los Angeles Unified. Our commitment to our students, families and educators is to invest this additional money in reducing class size and supporting classroom educators. We hope UTLA will work with us to resolve the remaining contract issues so we can keep kids safe and learning in school."
Newsom's beefed-up education budget comes amid a flurry of activity this week surrounding UTLA's planned strike.
"We go in with an open mind every day," UTLA Alex Caputo-Pearl said when asked if he was hopeful about the pending offer. He added that Beutner's behavior "does not inspire great confidence, but we will go in with an open mind with hopes that we will see a proposal."
"If both sides wish to see that, we'll do it, but what I did today I hope makes an impact," Newsom said. "We just submitted a record budget for our K-through-12 education system; $80.7 billion, hopefully, will take a little bit of pressure off the district ... and maybe that will just help enhance a little bit of their negotiation."
A judge Thursday gave UTLA -- which represents more than 31,00 teachers, counselor, nurses and librarians -- the green light to proceed with a planned strike Monday, rejecting a bid by the district to obtain a temporary restraining order. UTLA had originally planned to start the strike Thursday, but announced Wednesday that it was pushing the date back due to legal action by the district.
A round of talks between UTLA and the LAUSD is scheduled at 1 p.m. at LAUSD headquarters.
Caputo-Pearl has said the strike would occur Monday unless the union sees a "serious" proposal by then.
Los Angeles City Councilman Joe Buscaino and County Supervisor Janice Hahn both said Thursday they would join teachers on the picket line if they do strike.
"I urge both LAUSD and UTLA to negotiate around the clock to reach an agreement to avoid a strike," Hahn tweeted Thursday. "However, I want to make perfectly clear that come Monday I stand with teachers and will gladly join them on the picket line."
Union and district leaders met face-to-face at district headquarters for about five hours Wednesday but emerged still far apart on key issues.
The district and the teachers remain at odds over the size of a proposed raise, along with how much money should be spent to add support staff, reduce class sizes and other issues.
The LAUSD has offered teachers a 6 percent raise spread over the first two years of a three-year contract, while UTLA wants a 6.5 percent raise that would take effect all at once and a year sooner.
UTLA also says it wants "fully staffed" schools with more nurses, librarians and counselors added to the payrolls, along with pledges to reduce class sizes.
On Monday, the LAUSD raised its previous offer by $75 million to add more than 1,000 staff members to schools and help decrease class sizes, up from an initial offer of $30 million. Caputo-Pearl argued the offer would not make a significant impact because it would only add roughly one person at each campus, and it might actually end up raising class sizes. He also said the proposed spending increase would only last one year.
"Our kids don't need fulltime nurses for just one year. They need it for their school career, and they need it for their life," Caputo-Pearl said.
Caputo-Pearl also said the district's proposed salary increase for teachers would be contingent on cutting health care benefits for future union members.
Another disagreement between the two sides is over a reported $1.8 billion district reserve. UTLA argues that the reserve could be tapped to pay for its demands, while Beutner has said the reserve has already been fully earmarked, including for the potential raises for teachers. He has argued the UTLA demands would push the district into insolvency.
"We cannot accept those demands. They know that," Beutner said. "Our regulators will not allow us to accept those demands."
Caputo-Pearl said a commitment of at least 15 percent of the disputed $1.8 billion reserve dedicated to class size reduction could satisfy the union.
On Wednesday, the Los Angeles County Office of Education appointed a team of fiscal experts to work with the district to develop a fiscal stabilization plan. The office has the power to take over financial decisions from the LAUSD school board, and threatened late last year that it may do so if the district's finances don't improve.
Beutner said the county's move means it is "deeply concerned about our rate of spending versus the amount of resources that we have." Union officials said they do not trust the county's assessment of the district's finances.
As the second largest school district in the nation, the LAUSD covers an area totaling 710 square miles and serves more than 694,000 students at 1,322 schools, although 216 schools are independent charter schools, most of which are staffed with non-union teachers that would not be affected by the strike. The district says about 500,000 students and 1,100 schools will be impacted by the strike.
About 80 percent of the district's students come from low-income households and qualify for a free or reduced-price lunch, and around 25 percent are learning English. The district says it intends to keep all of its schools open in the event of a strike while it also continues to serve around 1 million meals each day.
The district also says it intends to attempt to keep some instruction going for students during strike. Four hundred substitutes have been hired for the task and 2,000 administrators with teaching credentials have been reassigned. However, with more than 25,000 teachers expected to strike and a total of more than 31,000 UTLA members set to walk out, the district is expected in many cases to do no more than supervise students during the day in auditoriums and other large spaces.
The district has established an information hotline for parents at 213-443-1300 to answer questions about the planned strike and its possible impact.